CROSSFIT SPEED IN NORTH LAKES
STRENGTH POWER EFFORT ENDURANCE DEDICATION
One of the country's most unique and extensively equipped CrossFit boxes located in North Lakes, Brisbane, Queensland. We have 28 CrossFit classes every week.  With the combination of other group training sessions, like Caveman Training, brings our classes to 44 a week, making Unbound Athletic the premier training destination in Brisbane, Queensland and possibly Australia.
Combine CrossFit with Endurance Training, Boot Camps, Circuit Training, Open Warehouse/Gym for 80 hours a week where you can do your own training and more with our Ultimate Training Membership.
Whether you are an experienced CrossFitter or just a beginner, the support, guidance and instruction will be provided in a supportive and encouraging environment.
We will also provide all members with FREE Kids Club operating between 9.00am and 11.00am and 4.10pm till 6.10pm Monday to Friday.  So now you can train knowing your little ones are being looked after in our dedicated Kids Club Room.
---
SO YOU HAVE HEARD ABOUT CROSSFIT, BUT NOT SURE WHAT IT IS ALL ABOUT?
CrossFit is an evidence-based fitness program. Fitness is the ability to do real work.
CrossFit is constantly varied functional movements performed at high intensity. All CrossFit workouts are based on functional movements, and these movements reflect the best aspects of gymnastics, weightlifting, running, rowing and more. These are the core movements of life. They move the largest loads the longest distances, so they are ideal for maximizing the amount of work done in the shortest time. Intensity is essential for results and is measurable as work divided by time—or power. The more work you do in less time, or the higher the power output, the more intense the effort. By employing a constantly varied approach to training, functional movements and intensity lead to dramatic gains in fitness.
Overall, the aim of CrossFit is to forge a broad, general and inclusive fitness supported by measurable, observable and repeatable results. The program prepares trainees for any physical contingency—not only for the unknown but for the unknowable, too. Our specialty is not specializing.
CVFM @ HI + Communal Environment = Health
A regimen of constantly varied (CV), functional movements (FM)performed at high intensity (@HI) in a communal environment leads to health and fitness.
*Copy Courtesy of CrossFit Inc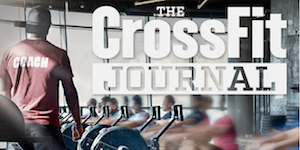 Thursday 09/04/2020
Movement Prep
1 Round
200m Run
20 heel to ground
200m row
20 hurdles
30 single skips
20 scorpions
Metcon
Metcon (Time)
1200m Row
30 sumo deadlift high pull
30 CTB / kb snatches
2400 bike
30 Hang power cleans
30 TTB / weighted sit ups
800m Run
30 Bent over barbell rows
30 Ring push ups
Buy out -
24m HS walk / 7 Wall climbers
Rx - 50/35
Int - 40/30
Sc - 30/20

Scaling - if you dont have access to a bike or rower you can run 3 x 800.
Extras
Metcon
ROMWOD

or

Actually stretch!

Your mobility isn't something to be taken lightly, it allows you to move through positions much more easily, stay pain free and minimise restrictions in workouts. Take the time to become more mobile!